PRESS ARCHIVE

Geometry Makes Me Happy, Index Book, featuring FL@33-designed exhibition identity system, exhibition catalogue and the dedicated website for the Royal College of Art's MA Curating Contemporary Art show No one lives here, pp.102–104, Barcelona, Spain, May 2013 (English)
___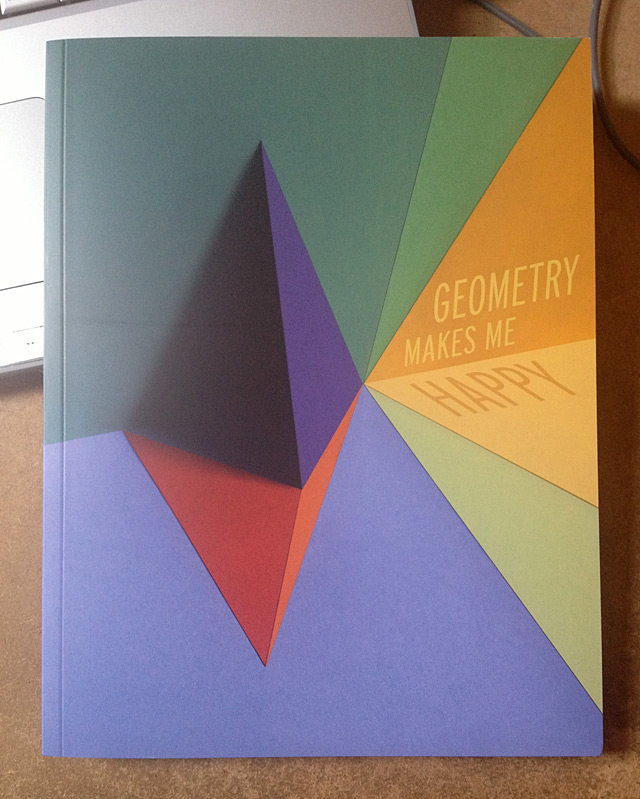 FL@33 | NO ONE LIVES HERE
Client: Royal College of Art, MA Curating Contemporary Art | Design: FL@33 | Programming: Huck und Fresow

The Royal College of Art's (RCA) MA Curating Contemporary Art (CCA) course commissioned FL@33 to create an exhibition identity system, a dedicated website and an exhibition catalogue for their show No one lives here. FL@33's Tomi Vollauschek worked very closely with the course's 14 final year students who curated the exhibition together. No one lives here opened its doors in March 2013 at London's prestigious RCA and ran for just over two weeks.
___ FL@33 developed an identity system that was applied across the entire exhibition – from signage to a tagging systems used in the exhibition catalogue and the website. It is playful and versatile although very systematically engineered.
___ The identity design is based on a three-dimensional hexagonal grid. Each depicted 3D hexagon reveals 10 triangles and each triangle represents one of the 10 artists featured in No one lives here. The show was divided into five themes or 'tags' – Truth, Space, Data Politics, Narrative and Object – and these five themes are also
(...) CONTINUE READING
represented by a shape within the depicted 3D hexagon.
___ As each of the 10 artists is linked to two of these 'tags' we combined these shapes with the artists' individual triangles – to create individual symbols that form the key ingredients for the exhibition identity. The hexagonal symbols appear as individual tags next to the artists' names or form hexagon clusters – with all 10 together symbolising the physical part of the exhibition. These clusters were also used in a more abstract way as seen on the catalogue cover and often the hexagonal symbols were then also cropped to suggest the evolving and sprawling nature of the show's subject matter.
___ For print and vinyl signage Futura Maxi (Futura PL / Fute) Demi was selected as the primary typeface combined with Futura Maxi Book. Online the non-existing Maxi webfont weights were replaced with Futura Heavy and Book.


SELECTED STOCKISTS
amazon.co.uk
amazon.com
amazon.ca
amazon.de
amazon.fr
amazon.co.jp

SPECS

Paperback

192 pages

260 x 200mm

ISBN: 978-84-15308-39-3
€25

Published May 2013
Index Book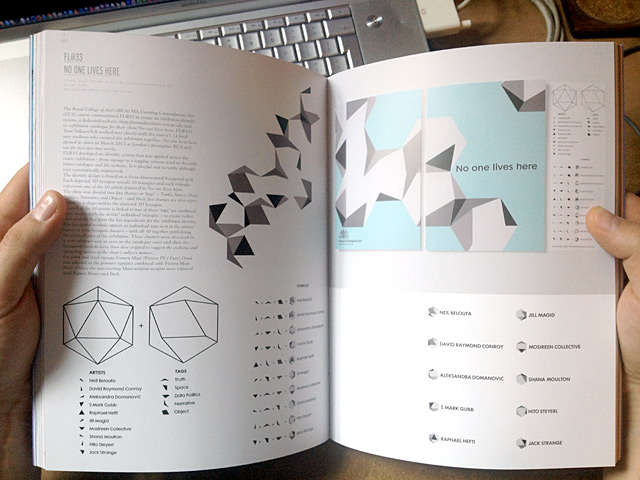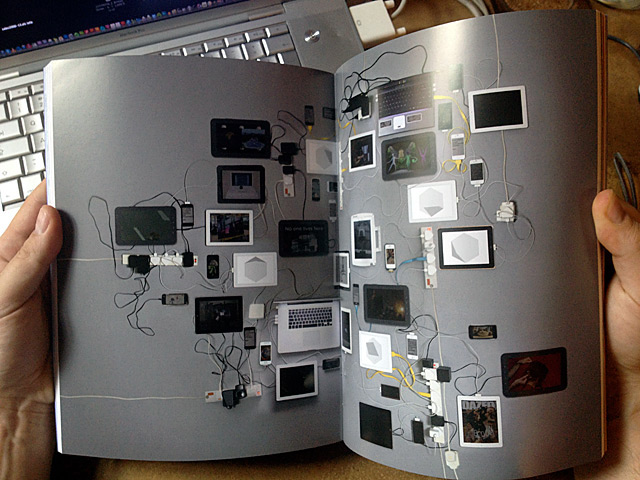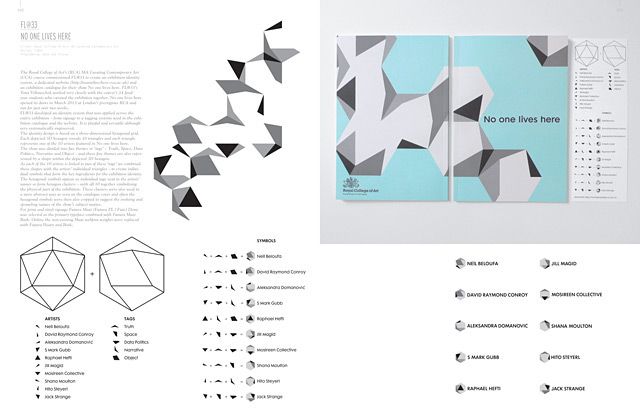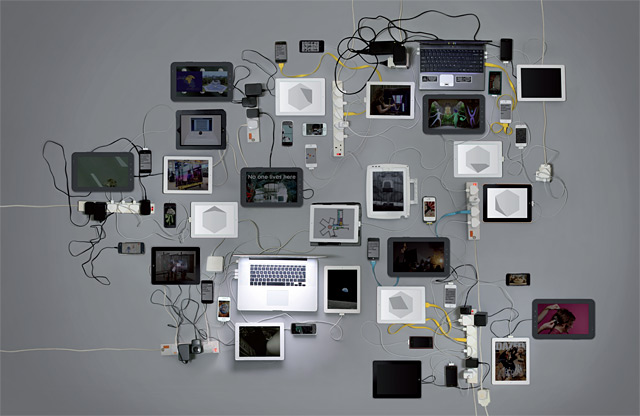 CLICK FOR MORE INFO | OFFICIAL BLURB

The worlds of art and design have consistently depended on some elements of mathematics to provide a structure and base for their creative work. In particular, geometry is an element that has proven to be popular throughout the years, and has experienced a definite surge in popularity in recent years.
___ Geometry Makes Me Happy celebrates the use of geometric design and art, shown in a variety of different applications. The colourful and inspiring book is divided into distinct sections, including art, photography, graphic design, illustration, industrial design, fashion, street art and interior design.