PRESS ARCHIVE

Vaughan Oliver: Archive (VO:A), two vols. [Unit 38], edited by Tony Brook and Adrian Shaughnessy and published by Unit Editions, including FL@33-commissioned Vaughan Oliver poster for FL@33 graphic art label Stereohype, book 1/2: Materials and fragments, VO:9—The Body Electric, p.352 and Interview with Vaughan Oliver and Chris Bigg, p.392, FL@33 / Stereohype / Vaughan Oliver collaboration 10 / 10x10: Fig.23—Down To Ten Men poster, London, UK, 16 October 2018 (English)
___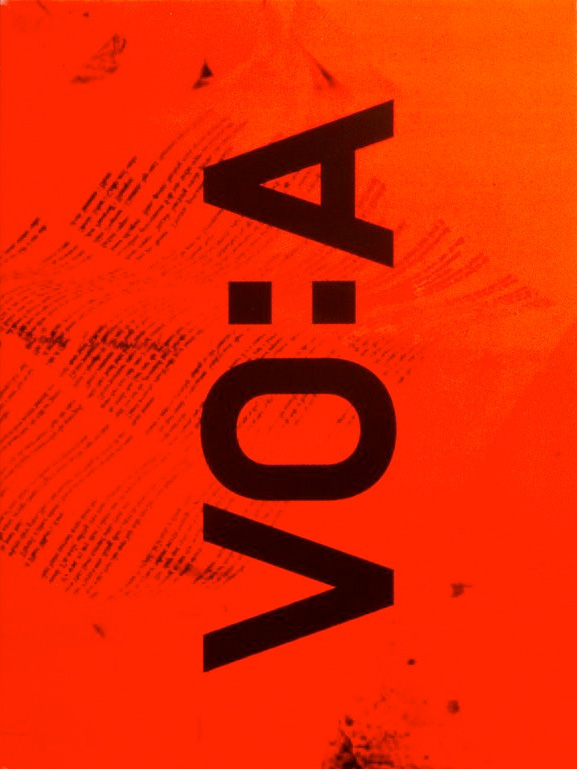 VAUGHAN OLIVER: ARCHIVE (VO:A) | THE BODY ELECTRIC: FIG.23—DOWN TO TEN MEN
Caption p.352 | Title: Ten Men Left [Fig.23—Down To Ten Men], Poster for Stereohype 10th anniversary exhibition, released as giclée print, Client: FL@33, Year: 2014
Excerpt p.392 | Chapter VO:9—The Body Electric, Interview with Vaughan Oliver and Chris Bigg
___ Adrian Shaugnessy: We are now looking at work that has an anatomical dimension. Can you say something about this?
___ Vaughan Oliver: The first piece we're looking at is something called 10x10. It was a response to an open brief by Tomi Vollauschek from FL@33. He invited designers to work with the number 10. The silhouette comes, I think, from a First Aid book – how to carry an injured man. I related that to an injured football player being removed from the field. That would leave 10 men on the field [Laughs].
___ AS: There is something similar going on with the Natures Mortes LP cover. It looks like found imagery, too. Is that what it is?
___ VO: Yes, this is very early 4AD. (...)


CLICK TO READ OFFICIAL BLURB

Thanks to the generosity of the nearly 1000 people who backed our Kickstarter campaign to publish the two-volume set Vaughan Oliver: Archive, we are able to print a few hundred additional copies of this important publication.
___ Both volumes (they come in a slipcase) offer a celebration of the Vaughan Oliver archive, a treasure house of graphic delights. Oliver is the designer who kept the stuff other designers threw away: proofs, running sheets, paper labels for vinyl records, original artwork for classic album covers, videotapes, books and the weird ephemera that was the source of inspiration for many of his most famous works.
___ Vaughan Oliver: Archive is in fact two books. The first (Materials and fragments) is arranged around a set of themes – colour, typography, the body, mystery, etc. It also features a selection of his exquisitely designed press ads – most of them unseen since the day they were published in the music press.
___ The second book (Remnants and desires) features a selection of the PMTs (Photo-Mechanical Transfer prints) that Oliver used as the basis for many of his most famous designs. Some can be recognised as forming parts of famous album covers – others (like his test lettering for an aborted Led Zeppelin project) have never been seen outside of the v23 studio.
___ The book(s), designed by Spin and written by Adrian Shaughnessy, feature many previously unseen works, including extensive interviews with Oliver, and with contributions from Chris Bigg, his long-standing creative accomplice.
SELECTED STOCKIST
uniteditions.com/... (book)
stereohype.com/... (ltd edition Vaughan Oliver poster)



SPECS
Title: Vaughan Oliver: Archive (two vols.) [Unit 38]
Editors:
Book One / Book Two
Printed: Litho

Title: Vaughan Oliver: Archive
Materials and fragments / Remnants and desires

Size: 210mm × 280mm

Pages: 432 / 164

Colours: CMYK Toyo inks (with higher colour values achieved) / Black Toyo ink throughout
Binding: Perfect bound. PUR glued
Cover stock: 300 gsm Munken Pure
Book stock: 80 gsm Munken Pure
Sticker: 150 gsm Fasson White Manilla Perm
Slip Case

Printed: Silkscreen
Colours: 
Black with bespoke-mix flouro
ISBN: 978-0-9956664-8-1
Please note: books sold as two-volume set only.
Free postage worldwide.
£75.00
Edition of 900