PRESS ARCHIVE

Digital Arts, digitalartsonline.co.uk, News – What's Hot, Stereohype badge design competition 2013 winners announced, also featuring FL@33-designed AFOMFS luxury gift boxes, London, UK, 11 November 2013 (English)
___

Archive copy of: digitalartsonline.co.uk/news/...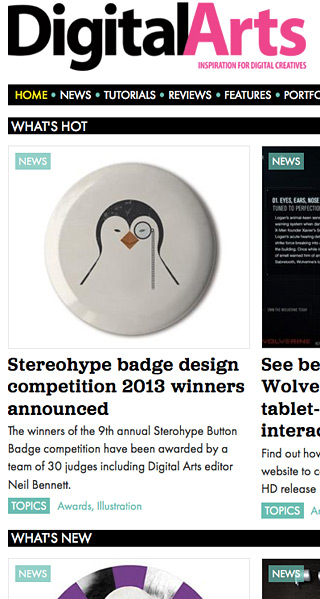 DIGITAL ARTS | ONLINE 11 NOVEMBER 2013
Stereohype badge design competition 2013 winners announced – The winners of the 9th annual Stereohype Button Badge competition have been awarded by a team of 30 judges including Digital Arts editor Neil Bennett.
___ The graphics art label has released its own B.I.O. (By Invitiation Only) 13 range and a custom designed shoelace box.
___ First to fifth prizes were awarded in two categories: for individual badges and sets of four. The top single badge prize went to Shiva Karamzadeh, while the first prize for a set went to Sara Cunha.
___ Stereohype also gave out its own special prizes in both categories, which went to Cynthia Bataille for a single badge and Jono Sandilands for a set.
___ The judges also included writers Angharad Lewis, Gavin Lucas, Liz Farrelly, previous winners and of course Tomi and Agathe from the graphic arts label (and the associated design studio FL@33). — You can buy the winning badges from the Stereohype website.

CAPTIONS
1 | 1st prize (set of 4): Sara Cunha |2| 1st prize (single badge): Shiva Karamzadeh |3| 2nd prize (set of 4): Keith Hancox |4| 2nd prize (single badge): Paul Pateman aka Pate |5| 3rd prize (set of 4): Faye Savage |6| 3rd prize (single badge): Marina Mijatovic |7| 4th prize (set of 4): David Petzold aka Lobsterboy |8| 4th prize (single badge): Kienan Dostal aka GiantEvilPizza |9| 5th prize (set of 4): Lydia Blanco aka Cocolima |10| 5th prize (single badge): Jenny Haytch |11| The label has released its own series of badges alongside the winners. The B.I.O. (By Invitiation Only) 13 range features 48 badges from the likes of Autobahn, Bond & Coyne, Brett Ryder, Lunartik, Sneaky Racoon and Will Scobie. |12| Stereohype has also released one other new product line, A Few of My Favourite Sneakers. These limited edition gift boxes include a custom shoelace, plus seven badges from the AFOMFS series – which was created in conjunction with sneaker blog Art & Sole.