PRESS ARCHIVE

Step (Inside Design), vol. 21, no. 1, A Field Guide to Emerging Design Talent 2005, by Alice Twemlow, Ones to Watch: FL@33, Agathe Jacquillat, Tomi Vollauschek, featuring Butterfly Pencil Sculpture, Stereohype Squirrel motif and Trans-form magazine, p.41, pp.51–52, USA, January / February 2005 (English)

download pdf, approx. 0.2mb
___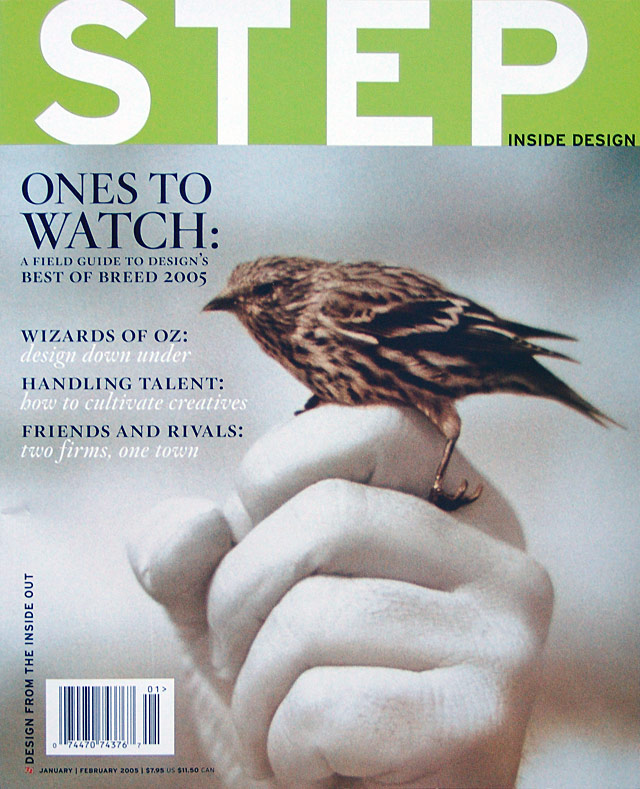 STEP (INSIDE DESIGN) | ONES TO WATCH: FL@33
The STEP Field Guide to Emerging Design Talent 2005 (Ones to watch: A Field Guide to Design's Best of Breed 2005)
Name: Agathe Jacquillat, Tomi Vollauschek, FL@33
Latin Name: Insula Triennia
Ages: 29 and 31
Description: French-born Agathe Jacquillat and Austrian-born (((correction: Austrian but Germany-born))) Tomi Vollauschek met on the Royal College of Art's post-graduate Communication Art and Design course in London and set up FL@33 after graduating in July 2001. FL@33 deals in "graphic design, including its blurry boundaries." The studio's clients include MTV Networks / VH1 European, Creative Review, Laurence King Publishing, Royal Festival Hall, Alsop Architects / Valencia Biennale 2003, Toicommoi.com, Matelsom, and École Normale de Musique de Paris.
Voice: "We believe that keeping a balance between commissioned and self-initiated projects and publications is good for one's soul, and also good for out customers," says FL@33. Their personal projects include Trans-form, a magazine, CD-Rom, and website dedicated to exploring the magic of urban sculptures that appear and disappear in the cities we are living in. Another personal project is Bzzzpeek.com, a website that juxtaposes animal and vehicle noises from different countries using sound recordings from native speakers. FL@33's most recent endeavor is Stereohype.com, an online boutique of limited-edition commissioned artworks.
Distinctive Markings: As students, Jacquillat and Vollauschek tended to listen constantly to music as they worked. "For some strange reason we have altered this habit. Now we either work in total silence – without even realizing it – or we listen to music far too loud and can't even hear the phone ringing."
Habitat: FL@33 is currently based in London's Notting Hill area, chosen for its plentitude of bars and restaurants, to "cheer us up in our spare time:" Spring 2005 sees FL@33's move eastward across London to a new (and much larger) office space in Clerkenwell.
Spotted by: Aidan Walker, editorial director of Media 10, London: "What appeals to me about FL@33 is their totally original imagination, their quirky sense of curiosity which they manage to express in the most elegant and eloquent ways. Their projects are infused with a highly individual humor that comes from ironic and precise observation. The world is definitely a better place for the work of Agathe and Tomi."