PRESS ARCHIVE

Digital Arts, February issue, Draw Some Ca$h, by Alice Ross, FL@33 interview excerpts, also featuring a few Stereohype badges, pp.32–36, London, UK, January 2010 (English)
___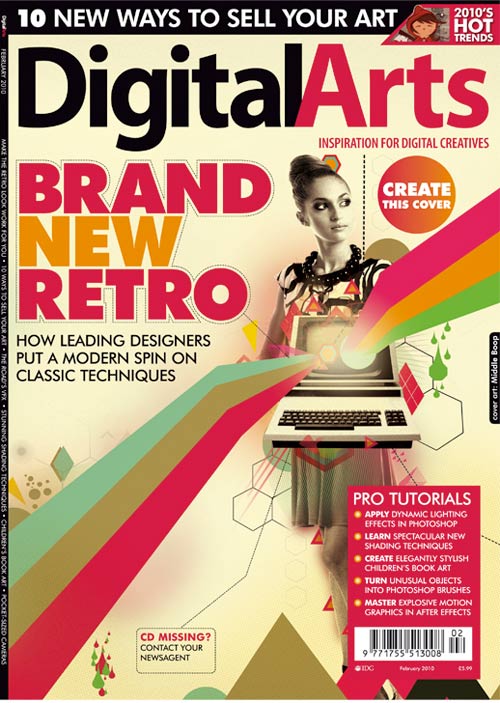 FL@33 INTERVIEW EXCERPTS
(...) Tip Four: Be rare | There's nothing wrong with not achieving world domination particularly at first: go for small editions of your products when you're starting out. "[Your product] has to be producible as one-offs or small editions to keep the risk to a bare minimum while finding out whether there is any demand for it," says Tomi Vollauschek, who runs online design boutique Stereohype (stereohype.com), as well as design studio FL@33. "If demand is indeed high then bigger editions should be possible."
(...) Tip Five: Aim wide | "A lot of products designed, produced and directly sold by graphic designers and illustrators themselves tend to have their peers in mind as potential customers," says Vollauschek. "To reach out of this limited market must of course be the ultimate aim – how many products can you possibly sell to your potential competitors?" He has a point: while a mug with a typographic in-joke might garner attention in design blogs and magazines, and win the approval of your mates and colleagues, its appeal won't stretch significantly further. (...)
Caption next to pictures of Stereohype badges: Stereohype, an online boutique, runs regular badge design competitions and creates invitation-only series of designer badges.
(...) Tip Seven: Be different | As with all artistic ventures, products that are born out of their creators' raw imagination and are unlike anything else on the marketplace will capture the imagination of buyers far more readily than those that resemble products that are already available. Originality is key – and the fact that you've had an idea doesn't mean that nobody else has got there first. Scour the marketplace before getting stuck in to prototyping, just to make sure your project really is an original. "Check out the competition – and then never copy anything they do or did." says Stereohype's Tomi Vollauschek, adding that he has seen plenty of pieces that rip off existing products, whether knowingly or unwittingly. This is not the way to make friends in the close-knit design community, and can even land you in legal trouble.
(...) Tip Eight: Do your sums | (...) Stereohype's Tomi Vollauschek recommends some straightforward road-testing to gauge your pricing: "Ask as many diverse people as possible whether they like your ideas, whether they would buy it, and how much they would be willing to pay," he says. The wait for your outlay to pay off can be painful. "Be aware that you will inevitably end up having lots of pounds worth of your products lying around in boxes and postal tubes waiting for customers to give you their hard-earned cash – it's an investment," Vollauschek says. (...)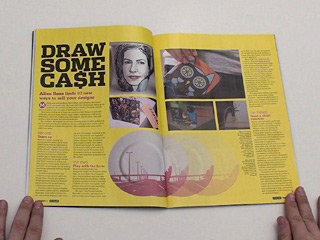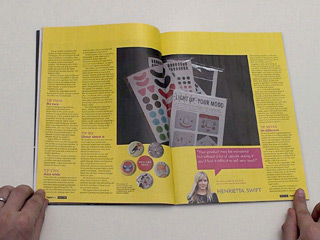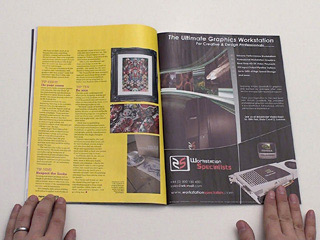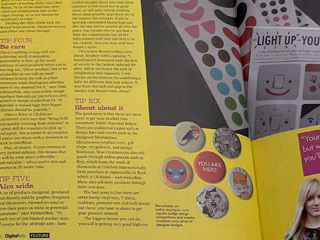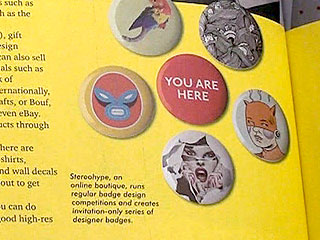 UNEDITED / COMPLETE INTERVIEW
Are there any types of products that you at Stereohype feel are particularly suitable for graphic designers and illustrators to create for sale?
Everything creative is potentially interesting for graphic designers and illustrators to sell if it is of highest quality of course. It simply has be producible as one-offs and/or small editions to keep the risk to a bare minimum while finding out whether there is any demand for it and if so how much.
___ If demand is indeed high than bigger editions should be possible or variations of additional follow-up print-runs to potentially create a series of successful products...
___ Typical product examples include button badges, Gocco prints (postcards and greeting cards), digital C Type prints, photo canvases, inkjet and Giclée prints. T-shirts and screen-prints are to a certain extent also good contenders. Minimum print runs are often 25–30 though when dealing with screen-printing facilities – which might be too much for some, while most of the digital printing techniques mentioned before can be produced quite easily on demand – even as one-offs.
What products (particularly those from graphic designers/illustrators) sell particularly well at Stereohype?
Stereohype's annual button badge design competition and the ongoing design initiative B.I.O. (by invitation only) button badge series have resulted in a popular and ever-growing collection of over 500 mobile mini canvases designed by emerging and established artists, designers, illustrators and photographers from around the world. Stereohype – Graphic Art & Fashion Boutique – currently offers approximately 800+ products and the (500+) button badges are – all in all – the most popular products in our collection.
___ The beauty of our button badge design initiatives is that we are able to add 60–120 new badges every year. It's therefore always kept fresh. The design competitions' international juries always consist of former winners, some of the B.I.O. contributors plus design writers and journalists and us. B.I.O. badges are rarely going through a selection process on our side. Every now and then do contributors give us a choice but in most of the cases embrace B.I.O. participants the freedom we give them with our brief to design whatever they feel like. There is virtually no censorship at all – our only demands are that artworks are not racist or offending and we do not tolerate weapon glorification (ie trying to make guns and knives look cool etc). This freedom to design anything really has resulted in an incredibly rich spectrum of individual artworks that then become our badge gems.
___ What never seizes to amaze us...
(...) CONTINUE READING
...is how completely different the individual tastes of our international customers are. Some badges sell obviously better than others but there is no badge in our collection that does not sell – well – with the only exception being the mocking of (ex-)presidents and (ex-)prime ministers that come and go over the years... 8)
Are there any styles or aspects of products that tend to help a product sell? (or to put it more simply, what helps sell? Similarly, are there any traits that seem to doom a product to failure?)
Our popular FL@33-designed bzzzpeek.com support T-shirts for example do get a lot of non-design related attention as our online sound collection attracts vast amounts at times of international visitors across all age-groups and professions. The products are by their very nature very international, too. Both aspects help enormously of course – not only to sell our bzzzpeek tees but also to get new customers to click around at our website and discover goodies they might end up buying.
___ A lot of products designed, produced and directly sold by graphic designers and illustrators themselves tend to have their peers in mind as potential customers.
___ To reach out of this limited market must of course be the ultimate aim for small independent online shops.
___ How many products can you possibly sell to your potential competitors... 8)
How do Stereohype's creatives tend to get their products made? How do they find manufacturers etc?
Apart from button badges did we so far not have the opportunity to produce other people's artworks. We do the badges, have our own FL@33-designed products and stock products we like that have been created and produced already by talents from around the world.
___ These illustrators and graphic designers all have their own contacts to manufacturers through their commercial work in their day-jobs and use these contacts to produce their T-shirts and prints etc for their sideline product range(s).
What are your tips for an illustrator wanting to develop a product or two?
Do your research thoroughly.
___ Ask as many diverse people as possible whether they like your idea(s), whether they would buy it and how much they would be willing to pay.
___ Check out the competition.
___ Never copy anything they do or did! (so many stories to tell about others and unfortunately also us who fell victim... – incl. cases of complete rip-offs of Stereohype T-shirts that were then sold in the UK!!!)
___ Be aware that you will inevitably end up having lots of pounds worth of your products lying around in boxes and postal tubes waiting for customers to give you their hard-earned cash – it's an investment.
___ Be also aware that even if you manage to get national and/or international stockists to buy your products wholesale or offer your products on commission/'sale or return' basis, they will probably not re-order the same but will wait for you to publish / release new products.
What's the best way for creatives wanting to sell products to approach Stereohype?
If all aspects of a brand new product are brilliant and it could be delivered to us ready-to-go and the price is right and we are – ideally even exclusively – approached by the creative with complete information on products, delivery times and prices – maybe even straight away with a plenty of background history on product and designer – then we might have a deal.
What does Stereohype look for in the products it stocks?
Products will ideally be exclusive to Stereohype but should at least be very rare. We define ourselves as online boutique after all.
What does it avoid like the plague?
Our customer-base is truly international and while it is possible to ship heavier things to customers based in the UK without scaring them away with high shipping costs it does unfortunately become financially very quickly difficult when we have to ship to continental Europe or beyond. Heavy books for instance are therefore very difficult to handle for us and so far we have not even started to stock our own books Postcard and Made & Sold – both conceived, compiled, written and designed by us. It's also very difficult if not impossible to have to compete with online retailers such as Amazon who will almost certainly be able to sell widely available books cheaper than we could.

Alice Ross, Tomi Vollauschek, October 2009