PRESS ARCHIVE

Étapes: international, 1, launch issue, 4-page FL@33 profile / interview from Étapes: 102 (November 2003), republished in English, Duos – 6 Reasons to Be 2, featuring various FL@33 works, pp.48–51, Paris, France, May 2004 (English)
___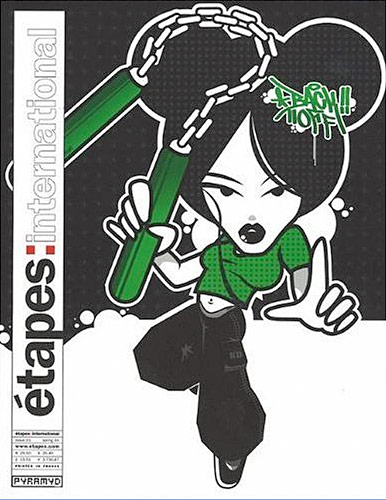 ÉTAPES: INTERNATIONAL | FL@33 INTERVIEW EXCERPTS
English (first published in French in Étapes: 102 in November 2003)

The name FL@33 comes from the studio location (flat 33) and also from the theory of the "power of 3", based on the balance between intellect, technique and emotion. We've created a partnership, so it's a two-stakeholder structure, but we want to set up a little studio with five to 10 people. With the two of us we can test our own ideas and defend them if necessary. It's much more inspiring than working alone. The downside? Knowing who should make the coffee, and who's the accountant or secretary. We draw inspiration from each other, and sometimes complement each other. We had very different educations in the graphic arts. At the beginning of each project, we both keep saying what we think about the other's graphic and conceptual approach until we're in perfect agreement. But sometimes we're inspired and amazed by each other, and follow their work in parallel.

A: Technically speaking, I let Tomi deal with everything involving video / timeline / animation... I like to see the result right away, and with video you always have to wait for hours.
T: Agathe takes care of website design and the html / javascript language... I'm not patient enough to troubleshoot bugs or sort out inter-browser compatibility!

SELECTED STOCKISTS
Please note that there might have been another edition published in June 2005 as a double issue – the launch issue togther with issue 2. TBC
amazon.co.uk

amazon.fr
amazon.ca
amazon.com
amazon.de
amazon.co.jp

SPECS

Paperback

English
140 / 288 pages ?
ISBN: 978-2350170916

€30

Published May 2004

Pyramyd Editions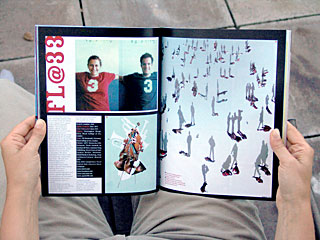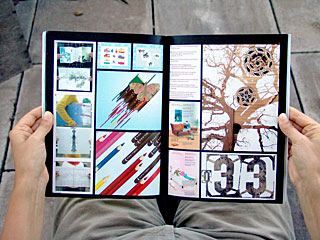 FL@33: London, 2001 | Agathe Jacquillat: born 1975 | Tomi Vollauschek: born 1973 |
Agathe: Penninghen (Esag), Paris, Royal College of Art | Tomi: FH Darmstadt, Allemagne, Royal College of Art, Londres | Clients: MTV Networks – VH1 European, École Normale de Musique de Paris, Laurence King Publishing, Royal Festival Hall, Creative Review, Matelsom, EMAP – Media & Marketing, Alsop Architects – Valencia Biennale 2003 | Best 2002 commission: Royal Festival Hall, Classical Music Campaign | flat33.com, bzzzpeek.com, trans-port.org, agatheHD.com |

|1| Illustration evoking symphonic music for a Royal Festival Hall campaign in 2002-2003. |2| Images excerpted from the book by and about FL@33 (due to be published this year). This is Shadows, of passers-by seen from the Eiffel Tower. |3| Poster-brochure for the École normale de musique in Paris (April 2003). |4| Cover of Trans-form magazine, then "Ville insecte" (Cityscape Insects), a double-page spread taken from Trans-form (July 2001), see also étapes: 79. |5| Editorial design for a Miami ad School feature, in Creative Review (May 2003). |6| Web pages extracted from bzzzpeek.com, a comparison of international onomatopeia. The site won an award at Ars Electronica in 2003. |7| Series of illustration-sculptures. This is a butterfly, comprising 818 virtual colour pencils (September 2002). |8| In-metro poster campaign for Matelsom (with the visual identity design). |9| Illustration for the same campaign at the Royal Festival Hall in 2002-2003, here evoking the music of the Middle Ages. |10| Aerial photo, from the book FL@33, It belongs to a series of compositions about cities. the book will feature freestyle compositions and some professional work.

OFFICIAL BLURB
The new magazine Etapes: International caters for all those involved in visual creation and...
(...) CONTINUE READING
...communication. It has opened up new roads for readers by deciphering images and analysing the latest news and innovations in the field of graphic design – thus compiling, issue by issue, a unique source of visual documentation. Etapes: International is published by the French design publishing specialists Pyramyd. It is a quarterly and features the pick of the French monthly's articles on a wide range of topics from typography to graphic design. It is an essential instrument for getting a greater view of international trends in graphic design. The French Etapes: has already been entirely dedicated to current events in world-wide graphic design for some years now. It soon earned a distinctive niche in the French press – as the first graphics magazine which, by observing global design trends and introducing them critically, helped its readers discover and understand this transcontinental graphic culture.